Blog Number Two: The undercover travails of a State Police waiter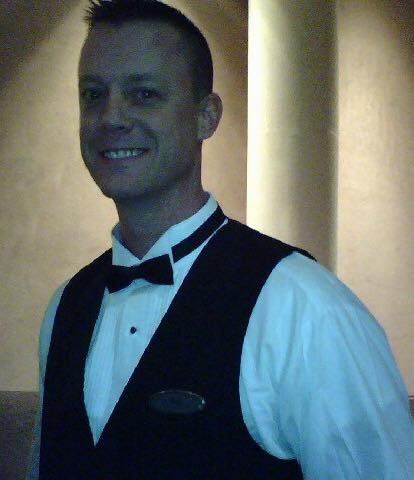 (State Police Investigator Mark Eifert as "Phil, the waiter.")
Readers of Seven Million may remember the episode when State Police Investigator Mark Eifert goes undercover at the Hyatt Regency to grab up beer bottles and silverware handled by retired Rochester cop Tom O'Connor. The police wanted O'Connor's DNA to see if it could link him to the 1987 homicide of Damien McClinton. (It didn't.)    
I didn't know until this week that there was more to the story. I'll let an email from Eifert, who was wearing a waiter's uniform with the name "Phil" for his undercover job, take over from here:
"Obviously, I couldn't pay too much attention to Tom O'Connor so I was bussing everyone at his table and other tables around his.  I kept an eye on him, but kept busy and inconspicuous as I could. 
"At one point, I hear a female voice a few tables behind me "Sir?... Sir?...Waiter?" I turn and the woman waves me over and complains there is a hair in her chicken.   I apologize and take her plate. 
" I have no idea where the kitchen is!  No clue of what I am going to do with it.  I had seen where the other wait staff was going in and out some door, so I head over there.  I get through the door and it is a long hallway, just full of chairs and tables. It looks like storage. 
"I don't see any other staff.  I look left and right, trying to guess which way I'll go.  Luckily, I hear some dishes clinking and head that way.  I find the kitchen and announce to no one in particular, 'I got a hair in the chicken.'
"An angry female manager steps in front of me. She asks which section it came from. She asks me if it came from a specific girl's section. (How would I know? I don't know any of my "co-workers.")  I told her it wasn't my section, as I was just walking through and grabbed it from another section. 
"She continued on and on until finally, I pointed at my head (and military hair cut) and exclaimed 'It's not mine!' A line cook interrupted this argument and asked if I needed another chicken. I quickly took it and brought it back to the woman with my apologies. 
"I went out and told (investigators) Bill Lawler and Tom Crowley that I just yelled at the kitchen manager and jokingly said I thought "Phil the Waiter" was going to get fired.  I managed to get enough beer bottles and utensils from O'Connor and "Phil" disappeared from the Ball."
If you haven't read Seven Million, and don't know the initial story that gave rise to this anecdote, what's holding you up. Rush out and buy a copy now at Barnes and Noble, or order from Amazon or B&N from the comfort of your home.
I'll be trying a new blog, with more history of the story and updates, every week or so in the foreseeable future. Thanks for reading.