Original Seven Million prologue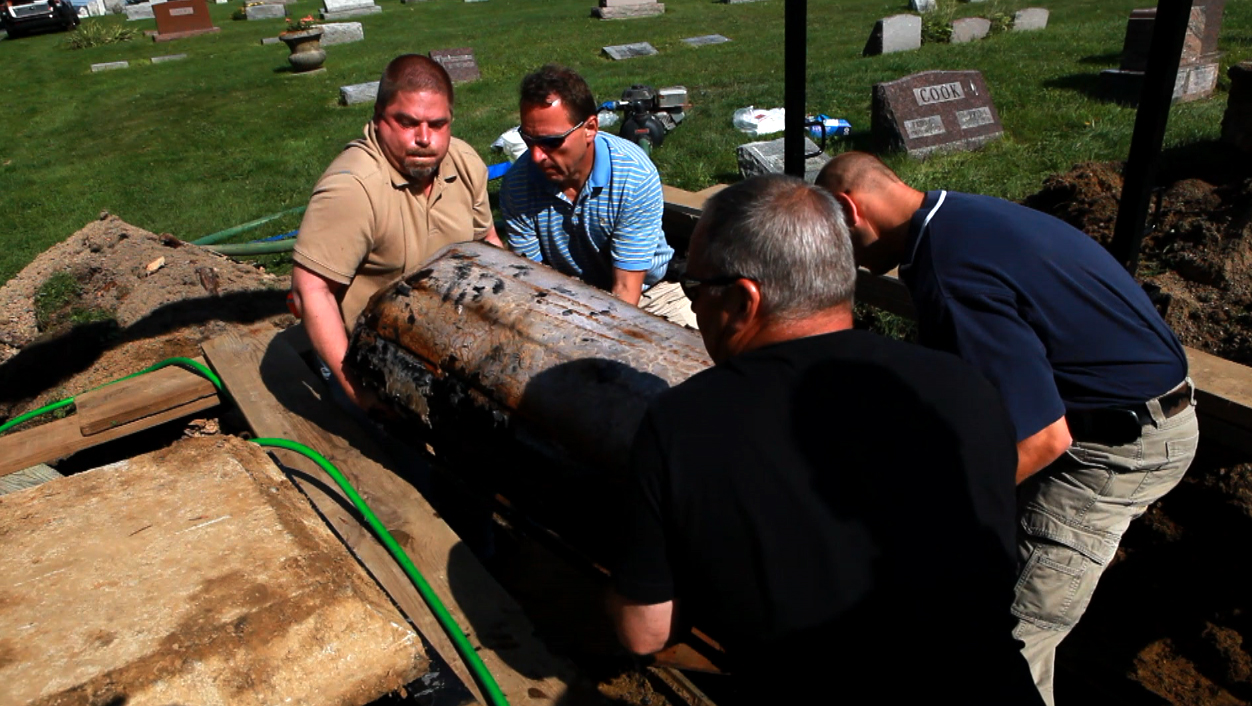 (Originally Seven Million was to be written partly in first person. This was an early stab at a prologue, written before I learned Ronnie Gibbons was likely taken to Cape Vincent by car and not boat.)
PROLOGUE

August 24, 2011
    From the moment 15 years before when I first heard Ronnie Gibbons' name, I knew I'd find him dead.
    I just didn't know where.
    I'd hunted high and low for Gibbons – or, to be more specific, for his remains. Every time a corpse was discovered buried in an unmarked grave or rotting in the woods of western New York, I'd call the coroner's office to see whether Ronnie may have been found. The result was always the same – either the body was positively identified as someone else or the physique or race or gender showed that it was not Ronnie.
    As the years passed, I encountered more dead ends, slammed into more brick walls, chased more wild geese, and tumbled down more rabbit holes than I cared to remember. My frustration was only outweighed by my determination. I had not promised Rita Gibbons – Ronnie's dear octogenarian Mom – that I would find her son, but only that I would keep trying … and trying … and trying.
    I did not expect those maddening efforts to end here, at a well-manicured cemetery in Cape Vincent NY with a splendid view – if only the dead could see it – of the St. Lawrence River. Cape Vincent is a small weathered village at the nexus of the river and Lake Ontario, 150 miles by car from Rochester, where Ronnie disappeared, but fewer than 100 miles by boat. If Ronnie was, in fact, buried here at an unmarked grave for the indigent, there was a good chance he'd been murdered in Rochester, transported to the area by boat, and dumped into the depths of Lake Ontario. Lending credence to that theory was the likelihood that his partial remains – a torso and foot – had separately washed ashore in Cape Vincent. They'd been buried here in 2000, and now police were exhuming the child-sized casket in hopes that a DNA comparison between the body parts and genetic samples from his family would provide some answers about Ronnie's fate.
   As an investigative reporter for the daily newspaper in Rochester, I had inherited the coverage of a $7.4 million Brinks Co. heist pulled off by masked gunman in the city in 1993. That robbery, I was sure, was the cause of Ronnie's disappearance, and likely murder. Ronnie was only on the periphery of the robbery – one of the largest in the country's history – but his involvement was enough to get him killed. I was certain he'd known too much for his own good.
   The Brinks Co. robbery had always been a fascinating tale, peopled by a group of eccentric and eclectic characters; mysterious because of an unproven belief by federal authorities that the Irish Republican Army was behind the crime; and largely unsolved because – despite some arrests, convictions and the recovery of looted cash – more than $5 million remained missing almost two decades after the heist.
    At the core of suspicions of IRA involvement was Sam Millar, one of the depot robbers. (If his conviction for the crime was not enough proof of his culpability then his admission to the theft in his 2005 memoir surely was.) Millar had been an IRA firebrand as a young man, imprisoned for almost a decade at the notoriously brutal British Long Kesh prison.
     Adding ammunition to the alleged IRA link was the elfin Father Patrick Moloney, a priest of the Melkite order who ran a home for troubled youth in a tough section of New York City's Lower East Side. Moloney, who'd been watched by an FBI surveillance team moving more than a million dollars of stolen Brinks money to a Manhattan apartment, also was a loyalist to the struggle for Northern Ireland independence.
    In 1994, a federal jury in Rochester convicted Millar and Moloney of crimes connected to the Brinks heist and shipped them off to prison. Acquitted at the trial was Tom O'Connor, a retired Rochester cop who'd worked security at the Brinks depot and was widely suspected of being the inside man on the crime. During a "back-to-my-Irish-roots" journey to Ireland, O'Connor met and befriended Millar. Years later – and several years before the Brinks robbery – O'Connor smuggled Millar and his wife into the United States via Canada.
    The Brinks trial was two years in the past when I first heard of Ronnie Gibbons. Ronnie, a retired boxer, had worked in illegal Manhattan casinos with Millar and the two apparently plotted the robbery together after Millar, having visited O'Connor in Rochester, recognized how pathetic the security was at the depot. But Millar either kept Ronnie out of the robbery, or Ronnie backed out. To this day, stories vary. Millar maintains that Ronnie was too unreliable and erratic to participate, so he cut him out of the crime. (In his memoir, Millar also creates a version of the robbery that is so far afield from fact it may as well be fantasy.) Others say Ronnie decided he wanted no part because he feared the plan could devolve into gunfire, violence and the deaths of innocents. Whatever the truth, Ronnie decided in 1995 that he was owed some of the missing $5 million, and he drove from New York City to Rochester to encounter men he believed had the cash.
    He never returned.
    A year later I learned of Ronnie's disappearance, and my odyssey began – a journey that brought me this day to this exhumation of human remains.
    Just as with the entourage charged with the Brinks heist, the constellation of characters I'd met in the all-consuming and occasionally exasperating hunt for Ronnie had been equally peculiar. There was the two-time killer, jailed at a maximum-security prison, who managed to keep me on   the hook for seven years with claims – lies, I now know – that he had helped bury Ronnie's corpse.
    There was the former mobster henchman who tried to lend me a hand in my search. He'd been imprisoned for 25 years for setting up the murder of a Mafia-connected union leader.  He helped me while behind prison bars and again after he was freed on parole.
    There was the New York City bar owner and firefighter, who served as the consultant to the FX show Rescue Me and whose wife – the woman whose Toyota Ronnie drove to Rochester – was a well-known film and TV actress.
    There was the Irish troubadour, a singer-songwriter who'd lived in the Rochester region before his deportation back to Ireland for drug-related crimes.  I was sure he knew who'd killed Ronnie, but he remained elusive for me and police.
    And, on the police front, I'd befriended cops who were of the same singular mind as I. They wanted to find Ronnie for the sake of his family – his mother wanted her son back in Liverpool, England for a Christian burial – and they wanted the man or men who'd killed him. One longtime homicide investigator discovered during the investigation that he suffered from Huntington's disease, the debilitating neurotic sickness that slowly eats away at one's speech, balance, and, ultimately, mind.
    That cop, Bill Lawler, would retire from the Rochester police force in October 2011. But, today, two months before that date, he and I were both anticipating the unearthing of a casket from the Cape Vincent cemetery. Lawler waited with a colleague at a medical examiner's 80 miles away office in Syracuse. There renowned pathologist Michael Baden – the man who'd headed the forensic arm of the Congressional investigation into the Kennedy assassination - would analyze the remains for a possible cause of death.
    When I and police from three different agencies reached the cemetery, the gravesite had already been opened by a backhoe and the small casket rested inside, with muddied brown water covering most of its lower half. The day was brilliantly sunny, but the winds severe, causing the river's waters to be so turbulent that they lapped as loudly as ocean waves.
    For me, the moments at graveside, waiting for the casket to be lifted from the muck and transported to Syracuse - felt like both an end and a beginning. Based on evidence at hand – including the shorts that had been found still intact on the torso despite their years of watery immersion in Lake Ontario - both I and the police were sure the remains were Ronnie. The DNA tests would simply provide a confirmation of what we already knew. My search, and all its crazy labyrinthine detours, would end here.
    Then, of course, a whole new phase of this saga would begin: How did Ronnie get here? Who killed him? Why?
    Those questions, I felt, could not be answered without a return to the chilly winter night in 1993 when, with more criminal audacity than guile, the Brinks depot was robbed.
(The photo of Ronnie Gibbons exhumation is from friend and colleague Max Schulte)